Vitanium are able to provide a solution for most backup requirements into our secure cloud. In this post, I want to talk about the Veeam Agent – an often overlooked piece of software but with a lot of power under the hood!
The Veeam Agent allows image based backups for physical servers or desktops, as well as virtual machines running in any virtualisation platform e.g. XenServer and similar. It can also be used to create full system backups of virtual machines which are running in a cloud environment, such as Amazon Web Services (AWS) or Azure.
All recent Window's OS's are supported, along with most flavours of Linux such as such as Debian 8.0-10.4, Ubuntu, RHEL 6.0-8.2 or CentOS 6.0-8.2, plus many more!
Linux backups can be performed in the Command Line Interface (CLI) via the GUI wizard they have implemented: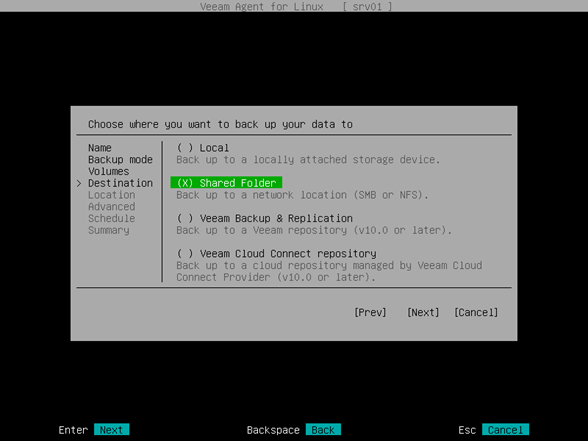 Due to Veeam's versatility, we find the Veeam agent can really 'glue together' a customer's Veeam deployment and backup strategy, which may span across multiple different architectures.
The backup image for all OS's can be flexibly restored in same way as traditional Veeam VM backups – for example, the full system, a single folder, an Exchange email or a single Active Directory object.
The Veeam Agent software is actually available as a free client to perform simple image backups locally, however, the true power comes when the Agent is used with a paid license (available from us starting at £4.90 monthly). This allows backups to a local destination, a Veeam Backup & Replication server or most importantly, a Cloud Connect provider such as Vitanium.
In this video, I perform a standalone install of the Veeam Agent, and backup the full system to Cloud Connect. I then restore a couple of 'important' files from the backup, without having to download the full image:
I could have also performed a full system restore using the Veeam Recovery Media – this is a bootable recovery key that Veeam can create, meaning even if the Operating System (OS) or disk has failed, the full system can be restored without having to manually install an OS first.
Lastly, whilst in the video I did a manual install of the agent, the software can be pushed out to machines and configured by utilising a central Veeam Backup & Replication server – a great feature if backups of multiple endpoints are a requirement for a customer.
If there's any queries on Veeam backup strategies, or licensing queries, feel free to get in touch with us for a helpful chat.