Get a quote
Explore Vitanium Products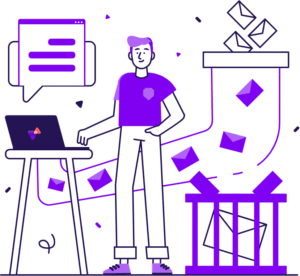 What is Cloud Email Filtering?
Cloud email filtering works to block advanced phishing, spam, malware, viruses, zero-day threats, malicious attachments, graymail, denial-of-service, and inappropriate content, before it reaches your networks or computers.
By detecting unwanted email at the gateway, email filtering not only prevents dangerous email entering your systems – it also ensures online applications run quicker, as it prevents misuse of your connection's bandwidth. In turn, this saves your business time and money managing hardware and software, while also helping to maximise staff productivity.
100% virus detection
You can rest assured that viruses will be identified and filtered before they reach your team's inbox, to keep your business safe.
Unlimited UK support
All Vitanium email filtering plans include unlimited UK support, which means you get expert help without the fear of additional fees.
Real-time management
You and your team will have access to a real-time portal where you can review and release emails quickly and efficiently.
No hardware / software required
There is no need for you to purchase or maintain any hardware or software, which saves you both time and money.
99% spam detection
Save time and money and, in turn, boost business efficiency by reducing the number of spam emails you and your teams receive.
Flexible, transparent pricing
All our services have unlimited capability with transparent pricing based on usage, so we can grow with your business.
Cloud Email Filtering full specification
ISO 27001 certified UK data centres
Unlimited UK technical support
Admin & per user portal access
99.97% up-time guarantee
All updates are automatic and free
Email signature editor
30 day fully featured FREE trial
No hardware or software required
Delivery destination management
100% known virus detection
All quarantined content held offsite
Filtering level control
99% spam detection guarantee
Desktop & Outlook quarantine RSS Feed
Quarantine action control
24 hour continuity mailbox*
Auto white list feature
Manage individual quarantined email
Max false positives 0.002%
Per User / Group quarantines
Grey listing control
Unlimited attachment sizes
Company & per user block / allow lists
Online report builder
We manage everything ourselves – while others rely on external providers to deliver their data protection services, at Vitanium, we have complete control from start to finish.
If you require a backup or are having trouble with your backup solution, you can call us and speak to an experienced member of our UK-based team, who will help you there and then.
Our processes are ISO accredited
Also, while most other providers simply use accredited data centres, at Vitanium, we hold ISO 27001 and ISO 9001 accreditation, so you can rest assured you're in good hands.
Try before you buy
Give our services a try FREE for 30 days. If you are happy with our product and service then we can discuss your requirements in more detail.