Get a quote
Explore Vitanium Products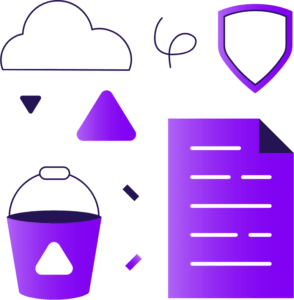 What is Object Storage?
Traditional file and block storage systems cannot keep up with the modern growth demands of organisations. Object storage exists to overcome these challenges by storing data as objects in a limitless flat address space.
Vitanium's Object Storage Platform is a highly-secure, high-performance and reliable S3 compatible solution that solves your biggest storage challenges.  It is fully compatible with hundreds of storage applications, SDKs, and plug-ins.
Data sovereignty requirements are met as we only use UK Data centres and the service is fully backed by a UK support team. Unlike many providers there are no hidden or unpredictable charges, you only pay for storage used, NO Egress and NO API fees.
Backup
Backup vendors like Veeam, Rubrik, CommVault and others support object storage backup targets. These simple integrations allow easy off-siting of backups for days/months/years to our secure object storage platform.
Ransomware Protection (Object Lock, Immutable, WORM)
Many backup vendors support Object Lock which prevents objects from being deleted or overwritten for a fixed amount of time. Vitanium fully supports Object Lock which adds an extra layer of protection against accidental (user error) or malicious (malware) deletion.
Long Term Archiving
Businesses can free up expensive on-site storage and on-premise equipment and store infrequently accessed data in our object storage.
IOT
The data generated via IOT devices such as phones, smart watches, speaker systems, home security is largely unstructured and well suited to Object Storage.
Media and Entertainment
Use our Object Storage to house a collection of films, music or photos – access using a browser or compatible app to stream anywhere via the Internet.
CCTV
CCTV data is highly valuable to many businesses. Securely store your CCTV video files in our UK datacentres, reducing risk of on-premise loss or compromise.
Flexible, transparent pricing
All our services have unlimited storage capability with transparent pricing based on usage, so we can grow with your business.
S3 compatibility
Our platform work with the S3 API, originally developed by Amazon and now a universal standard for accessing Object Storage.
Immutability
Your data will be protected so that it cannot be deleted in case of a ransomware attack or other security breach.
Fast data retrieval
Due to the nature of object storage and the lack of a folder hierarchy, you can retrieve data much faster.
Security
The safety and security of your data is our top priority. Tier 3+ data centres, encryption at rest and in flight, ISO accreditations all give re-assurance your data is in safe hands.
UK Customer support
Raise a ticket or call us and our UK support team will strive to address your issue.
Object Storage full specification
ISO 27001 certified UK data centres
No hidden costs
100% Opex pricing
99.97% up-time guarantee
No Egress or API fees
Infinitely Scalable
30 day fully featured FREE trial
Pay-as-you-grow
Data Sovereignty
Unlimited UK technical support
Immutability
Encryption
No hardware or software to install
We manage everything ourselves – while others rely on external providers to deliver their data protection services, at Vitanium, we have complete control from start to finish.
If you require a backup or are having trouble with your backup solution, you can call us and speak to an experienced member of our UK-based team, who will help you there and then.
Our processes are ISO accredited
Also, while most other providers simply use accredited data centres, at Vitanium, we hold ISO 27001 and ISO 9001 accreditation, so you can rest assured you're in good hands.
Try before you buy
Give our services a try FREE for 30 days. If you are happy with our product and service then we can discuss your requirements in more detail.