Veeam regularly release new features for both their customer and service provider product range. One of the most recent of these, is the Veeam Service Provider Console. This is a web based GUI that can let you monitor Veeam jobs, manage licensing and remotely deploy agents without requiring access to a customer server remotely or in person.
If you are one of our partners, the console also acts as a multi-tenant, single pane of glass for all your Veeam customers, preventing the need to jump between remote sessions and Veeam consoles to make any changes and/or monitor job status.
If you haven't received a login for the Veeam Service Provider Console (VSPC) and wish to use it, feel free to contact us.
This article covers:
Enabling within Veeam Backup & Replication
In order for the service provider console to be able to show data from a Veeam Backup & Replication install, access has to be enabled as a one-time setting:
Open Veeam Backup and Replication
Navigate to Backup Infrastructure -> Service Providers -> Right Click -> Properties

On the Service Provider wizard, tick the box which says "Allow this Veeam Backup & Replication installation to be managed by the service provider"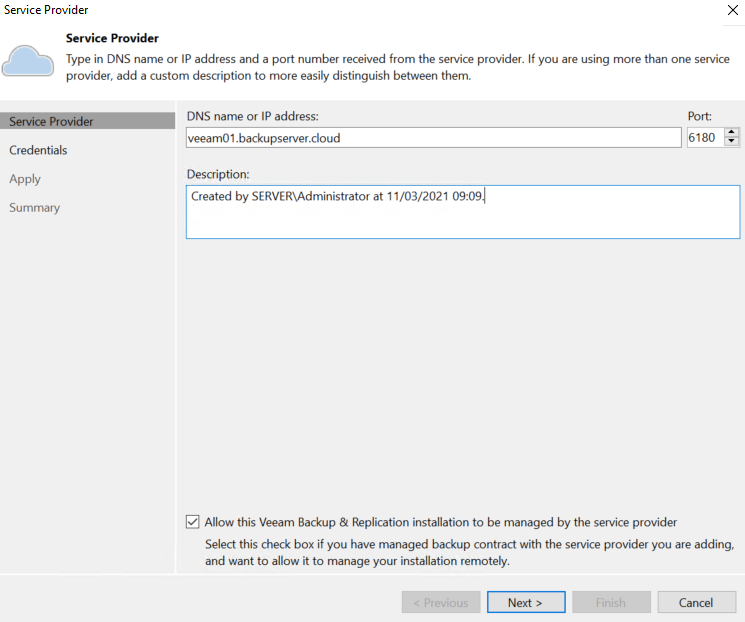 Click Next -> Apply to save
The setting will update, and the VSPC will begin to receive data after a few hours.
Getting Started with the VSPC and Alarms
To access the VSPC, navigate to https://vspc.backupserver.cloud:1280/
Login using the provided credentials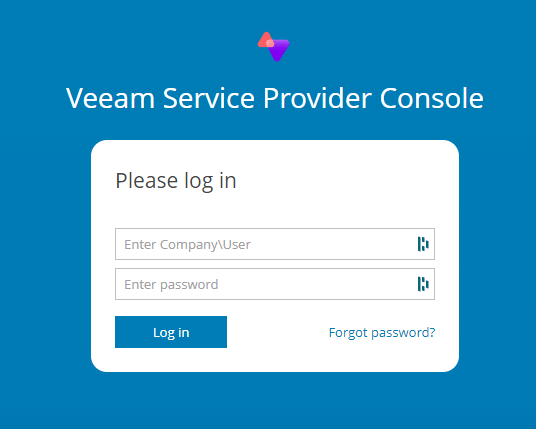 You will be taken to the summary page, which shows you information about all the backups available to you. For partners, this info will be cumulative across all customers.

Using the dropdown in the top left, will allow you to view just results for a specific customer if applicable.
Select Client Alarms
This will show you any active alerts based on the Veeam Backup & Replication servers hooking in.
In this example, our lab had a SureBackup job which was disabled so showing as a Warning.

To resolve this, the job needs re-enabling. This can be done by accessing the local Veeam B&R server, but also can be done via the VSPC.
To do so, select Backup Jobs on the left hand side, then choose the VM tab: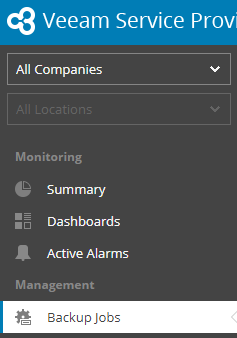 This shows you all VM backups data is being received for. We know the job was called 'TestVM SureBackup Job' so can apply a search for "TestVM":

The job shows as greyed out because it is disabled. We can see that it last ran 8 weeks ago, and took 4 minutes with a Success status.
To enable, select the job and choose Enable at the top. We could also choose Start if we wanted to run it manually

After resolving the issue (in this case re-enabling the job), return to Active Alarms and the alert can be selected, then either Acknowledged or Resolved using the relevant buttons

There is also a useful display of backup job success/failure rates under Dashboards on the left hand menu. This shows you the overall percentage of success on particular day e.g:

Getting started with the VSPC and deploying agents
It's possible for the VSPC to manage Veeam Agent installations on standalone machines. It can also deploy agents to multiple machines from a single 'master' agent, which could be useful in an environment of multiple physical machines that need backing up – e.g. a set of desktop PC's within an office.
To begin, go to Managed Computers on the left hand side, then the Discovered Computers tab. This shows all servers communicating with the portal.
If you have previously enabled 'Managed by Service Provider' in Veeam Backup and Replication, the B&R server should show here once connected and can act as the 'Master Agent'.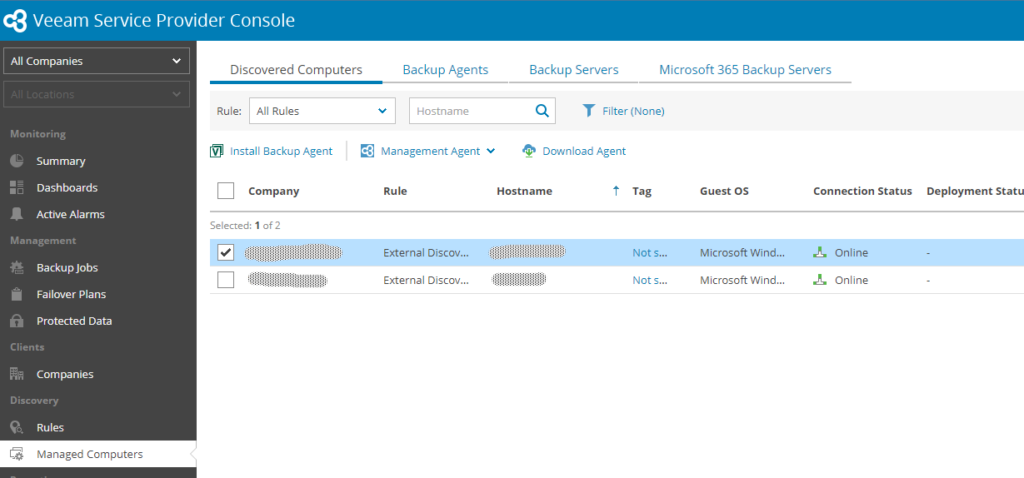 If there is no B&R in use on site, or the server has not shown, you can select 'Download Agent' to download the management agent manually and install on a machine:

You can also choose Install Backup Agent to push Veeam Agent for Windows/Mac/Linux to a machine in the list:

Once a 'master agent' is installed on site, you can then proceed to automatically deploy to other machines within the network.
This falls outside of the scope of this article, but Veeam document the process on their website.
Veeam Agents can be switched to 'Read Only' mode from the Backup Jobs -> Computers tab. This prevents the GUI from being accessed on the end machine itself and any settings being modified, which can be useful in a multi-PC deployment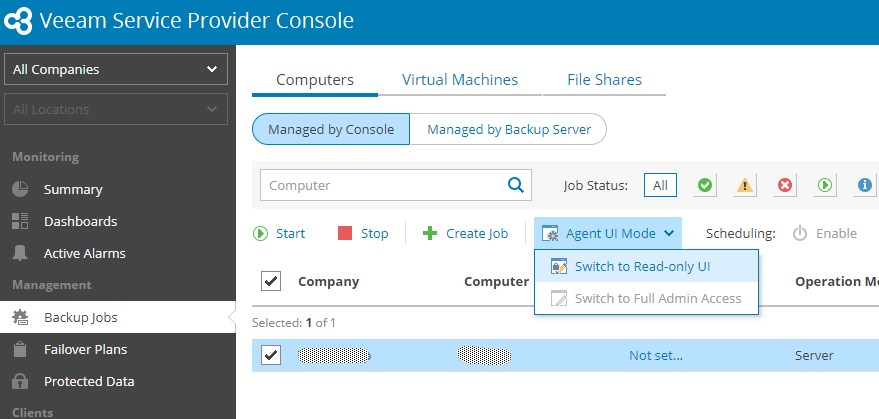 In Read Only mode, the settings cannot be modified locally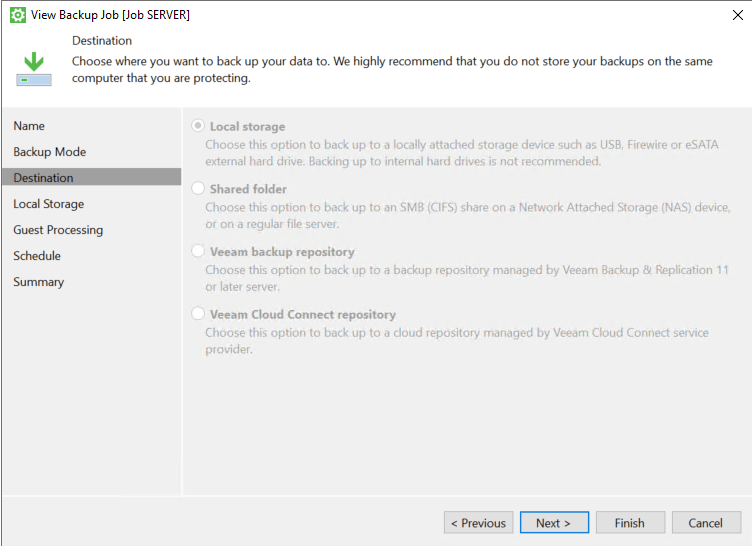 Conclusion
The Veeam Service Provider Console is a powerful portal that enables visibility into local Veeam Backup & Replication servers without requiring remote access to the end server. If you have any further queries, or would like to get setup on the portal, feel free to get in touch.