Microsoft 365 is a powerful cloud-based platform that provides users with access to a wide range of productivity and collaboration tools. It is widely used by businesses and individuals alike, making it an essential part of many people's daily lives.
However, like any other digital platform, Microsoft 365 is not immune to data loss and many people are under the impression because its "in the cloud" data is protected. I don't want to burst anyone's bubble but that is not the case, introducing Microsoft's Shared Responsibility Model.
Microsoft's Shared Responsibility Model is a framework that outlines the roles and responsibilities of Microsoft and its customers when it comes to the security and compliance of Microsoft cloud services, including Microsoft 365.
According to the model, Microsoft is responsible for securing the infrastructure, network, and physical security of its data centers, while customers are responsible for securing their own data and ensuring it meets their own security and compliance requirements.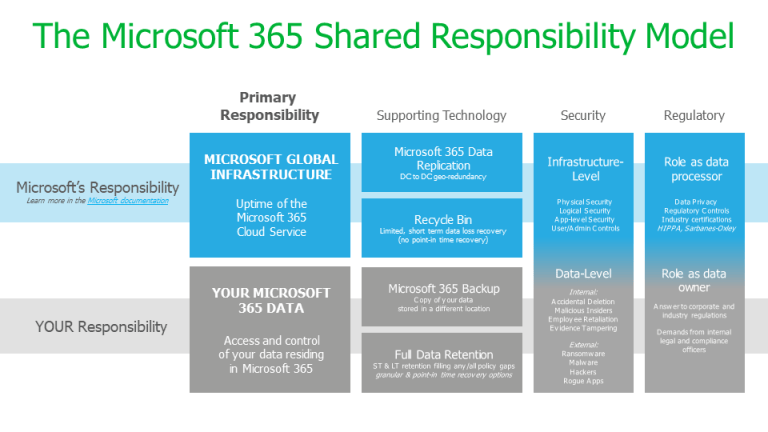 In terms of backing up Microsoft 365 data, Microsoft is responsible for maintaining high availability of Microsoft 365 services and ensuring data is stored securely. However, it's the customer's responsibility to backup their own data and retain a copy for their own purposes, such as to meet legal, regulatory or business requirements. Microsoft does not guarantee the availability of customer data beyond a limited retention period, so customers are advised to implement a backup solution to ensure their data is protected.
6 Reasons why backing up Microsoft 365 is critical
Accidental deletion. If you delete a user, whether you meant to or not, that deletion is replicated across the network, along with the deletion of their OneDrive for Business account and mailbox.
Retention policy gaps and confusion. The fast pace of business in the digital age lends itself to continuously evolving policies, including retention policies that are difficult to keep up with, let alone manage. Microsoft 365 has limited backup and retention policies that can only fend off situational data loss, and is not intended to be an all-encompassing backup solution.
Internal security threats. The idea of a security threat brings to mind hackers and viruses. However, businesses experience threats from the inside, and they are happening more often than you think. Organizations fall victim to threats posed by their very own employees, both intentionally and unintentionally.
External security threats. Malware and viruses, like ransomware, have done serious damage to organizations across the globe. Not only is company reputation at risk, but the privacy and security of internal and customer data as well.
Legal and compliance requirements. Sometimes you need to unexpectedly retrieve emails, files or other types of data amid legal action. Something you never think it is going to happen to you until it does. Microsoft has built-in a couple of safety nets (litigation hold and retention). But, these are not a robust backup solution that will keep your company out of legal trouble. For example, with a backup solution, if you accidentally delete emails or documents before implementing a legal hold, you'll still be able to get them back to ensure you meet your legal obligations.
Managing hybrid email deployments and migrations to Microsoft 365. Organizations that adopt Microsoft 365 typically need a window of time to serve as a transition window between on-premises Exchange and Microsoft 365 Exchange Online. Some even leave a small portion of their legacy system in place to have added flexibility and additional control. These hybrid email deployments are common, yet pose additional management challenges.
Conclusion
I hope its obvious that the answer to the original question "Do I need to backup Microsoft 365?" is 100% YES! it's your data and you need to protect it.
Vitanium's fully managed Backup for Microsoft 365 service eliminates the risk of losing access and control over your Microsoft 365 data. It requires no on-premise software or expertise, is quick to set up, has simple predictable pricing and is an incredibly cost effective way to protect your valuable data.
If you would like further information, a demonstration or free trial please contact us.